Why Feature Your Business in the Local Grocery Store?
---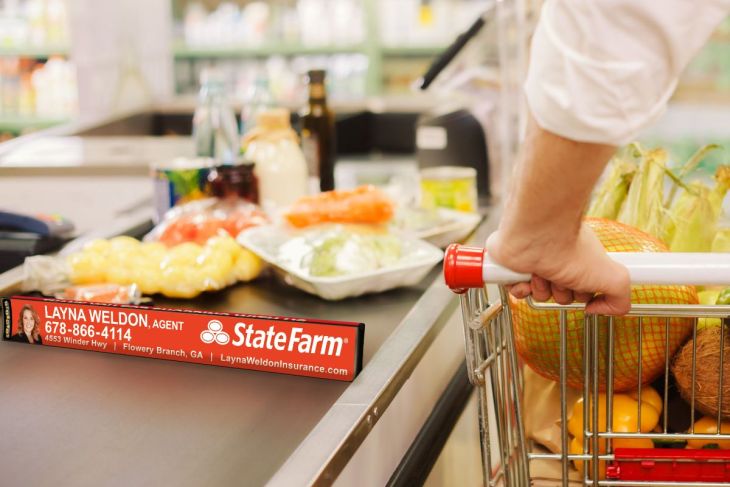 ---
Marketing your business may encompass several strategies including branding, increasing exposure, and targeting and reaching potential customers in non-traditional ways. Grocery stores continue to be an ideal marketing medium for businesses, due to the high volume of approximately 20,000 shoppers each week but even more importantly, those shoppers are a local business' target demographic. This puts grocery checkout lane divider branding in the driver's seat, making it one of the most effective ways to get your business in front of current and potential customers.
Grocery store branding keeps a business' name and message in front of thousands of weekly shoppers helping to make that business a recognizable fixture in the community. Each view/impression builds "TOP OF MIND AWARENESS" so when a customer needs a specific service or product, they think of that business.
So what types of businesses benefit the most from grocery cart advertising? Essentially, any business - local or national, small or large. Real estate, insurance agents, financial advisors, auto repair or dealers, attorneys, healthcare, restaurants and so many more. Keep in mind that whatever your business, repeated exposure builds a solid rapport, greater trust and attracts new clients.
Start with a solid brand. Your brand should encompass not only your business name, but your logo, slogan, etc. Keep in mind that the right slogan can become the centerpiece of your business' identity, and should always be five words or less. The best slogans describe what a business stands for in the shortest amount of words possible.
How do you get your message across? Start by establishing your target audience, then tailor your ad around them, making sure to take into consideration their age, gender, income, etc. This will help create brand awareness, which is crucial for any small business.
Grocery checkout lane divider advertising not only enables you to reach a plethora of people, but the right people.